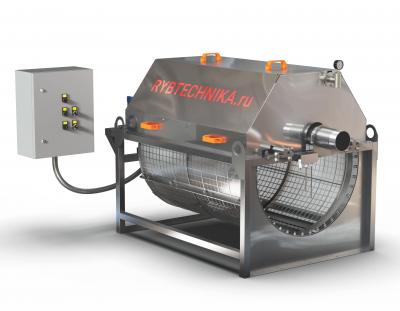 In stock
Assignment
Filtration of water, waste water and oil products from mechanical impurities
Flow rate
50 m3/h at filter loading of 25 mg/l, t 22-24°C, 60 µm mesh fineness
FCA, 0% VAT
Please note:
appearance of the goods can differ from the picture.
A simple, robust, low maintenance drum filter with a flow rate of 50 m3/h. The drum filter is used to filter water or other liquids, in closed circuits, on fish farms, in utilities, oil refineries, food production, for wine material separation into fractions, etc. Drum filters differ in several parameters, including the key ones: flow rate and type (open/closed). The main advantage of BFL-50 filter made of 100% stainless steel is its robust construction. BFL-50 drum filter is ideal for small-scale companies. Nowadays most of 50 m3 drum filters are of closed type (BFL-50C). Such filters are used in open channel systems not very often. When purchasing a 50 m3/h drum filter please pay special attention to its overall and mounting dimensions.
Assignment
Filtration of water, waste water and oil products from mechanical impurities
Flow rate
50 m3/h at filter loading of 25 mg/l, t 22-24°C, 60 µm mesh fineness
Power of geared motor, kW
0,18
Current type, frequency, voltage
three-phase AC, 50 Hz, 380 V
Area of filtration mesh, m2
2,1
Source water pressure before the pump, MPa
0,1-0,4
Dimensions (LxWxH), mm
1000×750×1150
Type
Closed/open, for installation in channels
Warranty period, months from the date of sale
12
Related products
957, 958, 959
Attention!
The manufacturer is constantly working to improve the design of the equipment, and therefore, the technical characteristics, overall and connecting dimensions of the equipment may differ from those indicated on the website.